ACTIVITIES TO LEARN SPANISH
We know that students of Spanish are increasingly looking for good quality Spanish courses and a wide range of activities to choose from. From Spanish classes to visits to historical sites and monuments, there is something for all tastes and ages.
Importantly, all activities are held in Spanish for the perfect mix of fun and learning new things while also improving your Spanish – and don't forget, it's the perfect way to make friends! In Murcia we have an excellent reputation as a destination for the outdoor enthusiast and, in addition, the cultural and social offer of Instituto Hispánico is wide and varied.
We could go on for hours about the exciting activities and excursions our students enjoy, so we'd better put a face to them. And if you're worried about the price of these activities, many of them are free or very low cost.
Murcia is a vibrant and multicultural city that offers a wealth of activities and events for all tastes and ages. By participating in the extracurricular activities organised by Instituto Hispánico de Murcia, you will explore the city, meet other international and Spanish students, and improve your language skills while having fun.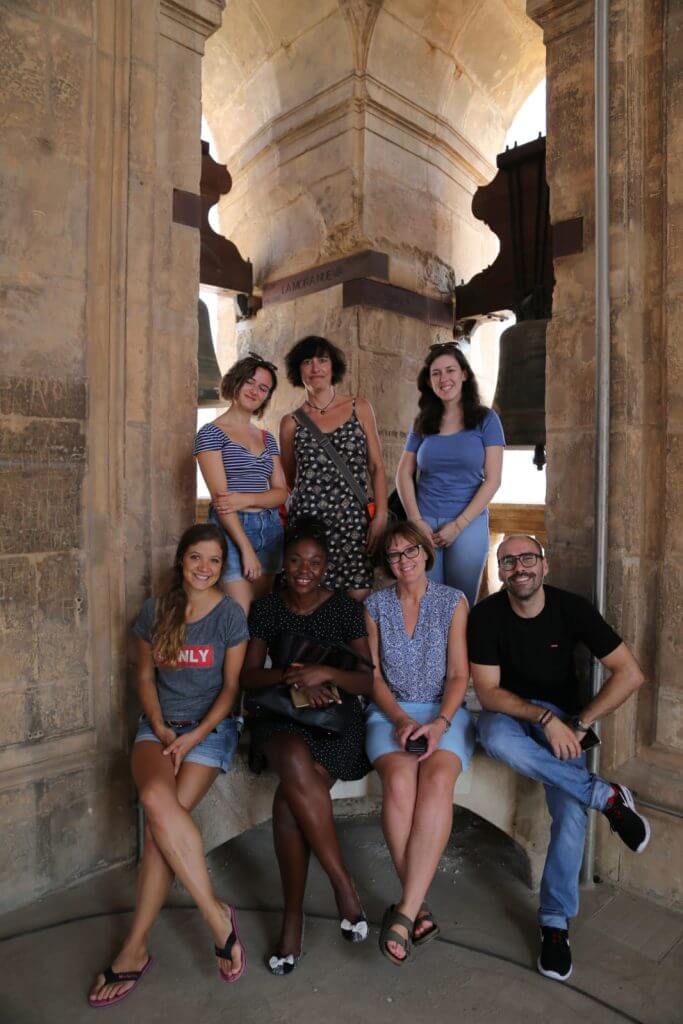 Another advantage of taking part in extracurricular activities is that they allow you to explore the city of Murcia and learn about its rich history and cultural heritage. From visits to historical sites such as the Roman Theatre or the Cathedral of Murcia, to tours of the city or the famous weekly market of La Fama, you will have the opportunity to experience first-hand all that the city has to offer.
Don't miss this unique opportunity to explore and learn in one of Spain's most fascinating cities!
In addition, Murcia is known for its extraordinary gastronomy and its traditional dishes such as rice with vegetables, zarangollo, baked octopus, marineras or michirones. Many of our tapas are suitable for vegetarians and vegans. What's more, the Region of Murcia was named gastronomic capital in 2022.
Taking part in extracurricular activities that include visits to local restaurants and markets will allow you to experience authentic Murcian cuisine and discover new flavours and aromas.
TYPES OF ACTIVITIES TO LEARN SPANISH IN MURCIA
Here is a summary of some of the more than 50 activities we offer at our international Spanish language school, from dance or cooking workshops, to guided visits to monuments or extraordinary places, and excursions to cities of interest. Here are just a few:
Guided tours are an excellent way to discover and explore new places with the help of a local expert. We are going to tell you about three very interesting guided tours in the Region of Murcia: the Cathedral of Murcia, the Roman Theatre of Cartagena and the convent of Las Claras, in the city of Murcia.
Visits to the Cathedral of Murcia: an impressive Gothic building with a rich history and beautiful works of art.
Visits to the Roman Theatre of Cartagena: an impressive archaeological structure dating back to Roman times.
Las Claras: a quiet and serene oasis in the middle of the city, with a beautiful cloister and an impressive collection of sacred art.
Excursions are a great way to discover and explore new places outside your usual environment and a great way to spend a day with your classmates. Here we will tell you about three exciting excursions in the Region of Murcia: Bolnuevo, Cabo de Palos and Cartagena, and La Manga.
Excursion to Bolnuevo: located in Puerto de Mazarrón, we will take you to an impressive beach with unique rock formations.
Excursion to Cabo de Palos and Cartagena: you can explore the rich history of the region through its ancient fortifications and archaeological structures.
Excursion to La Manga: a spectacular narrow peninsula surrounded by crystal clear waters, where you have the option to relax on the beach or practice water sports.
Join us for a day full of fun and adventure in this stunning destination!
The workshops we offer alongside extracurricular activities are an excellent way to enrich your free time and learn new skills. We are going to tell you about the four workshops that our students like the most and that we think are the most interesting: pottery workshops, cooking workshops, salsa and flamenco dance workshops, and volunteering.
Pottery workshops: you will learn how to create your own works of art with clay.
Cooking workshops: we will teach you how to prepare delicious local dishes to become a good chef.
Salsa and flamenco workshops: you will immerse yourself in Spanish culture and learn to move your body.
Volunteering: you will be able to make a positive contribution to the local community while learning new skills and meeting new people.
Outdoor activities are a great way to enjoy the natural environment and stay active. We are going to tell you about three exciting outdoor activities we can organise: rafting, hiking and go-karting.
Rafting: enjoy a thrilling descent down the Segura River with rapids and waterfalls.
Hiking: we will take you through the stunning natural landscapes of the region. From the majestic mountains of Sierra Espuña to the beautiful valleys and canyons of the area, you will discover the richness and diversity of nature in all its splendour. Get ready for an unforgettable experience in which you will enjoy the outdoors and the contact with nature!
Pedal karts: an exciting activity for those who love competition, where you can play with friends or simply take a ride along the river!
One of the most popular extracurricular activities in Murcia is the cultural exchange with local families. This is a unique opportunity to live with a Spanish family for a few weeks or even months, allowing you to fully immerse yourself in the Spanish culture and language.
You will be able to experience the daily life of a Spanish family, taste authentic local food and improve your Spanish in a natural and effective way.
COMBINE ACTIVITIES WITH OUR SPANISH COURSES
WHY LEARN SPANISH WITH ACTIVITIES?
Remember that our activities are a great way to maintain a balance between school work and free time. Sometimes it can be difficult to find the right balance between studying and enjoying life in a foreign country, but our extracurricular activities will help you enjoy the city and the culture while improving your Spanish.
One of the most important benefits of participating in extracurricular activities is that they allow you to develop important social and emotional skills. By interacting with people from different cultures and countries, you will learn to value diversity and respect cultural differences, which will allow you to develop an open and tolerant mindset.
What are you waiting for to book your favourite activities?
At Instituto Hispánico de Murcia we believe that interaction with people from different cultures and countries is essential in today's world, where diversity is increasingly present. We firmly believe that valuing diversity and respecting cultural differences allows us to broaden our perspective of the world, to better understand others and to develop intercultural skills essential for an increasingly diverse society. Therefore, one of our main objectives is to foster intercultural interaction and work together to create a more inclusive, just and respectful society.
Our activities are
exciting
fun
entertaining
popular
Frequently Asked Questions for Activities
The Instituto Hispánico de Murcia offers a variety of cultural and social activities, such as excursions, conversation activities, cultural workshops, language exchanges, among others.
It helps you to enrich your learning experience, to get a fuller picture of Spanish culture and to practise Spanish in authentic situations outside the classroom, which accelerates your progress in the language.
These activities allow you to practice Spanish in real-life contexts, interact with native speakers, immerse yourself in the local culture and improve your language skills in a fun and practical way.