Are you thinking about organising a school trip to Spain?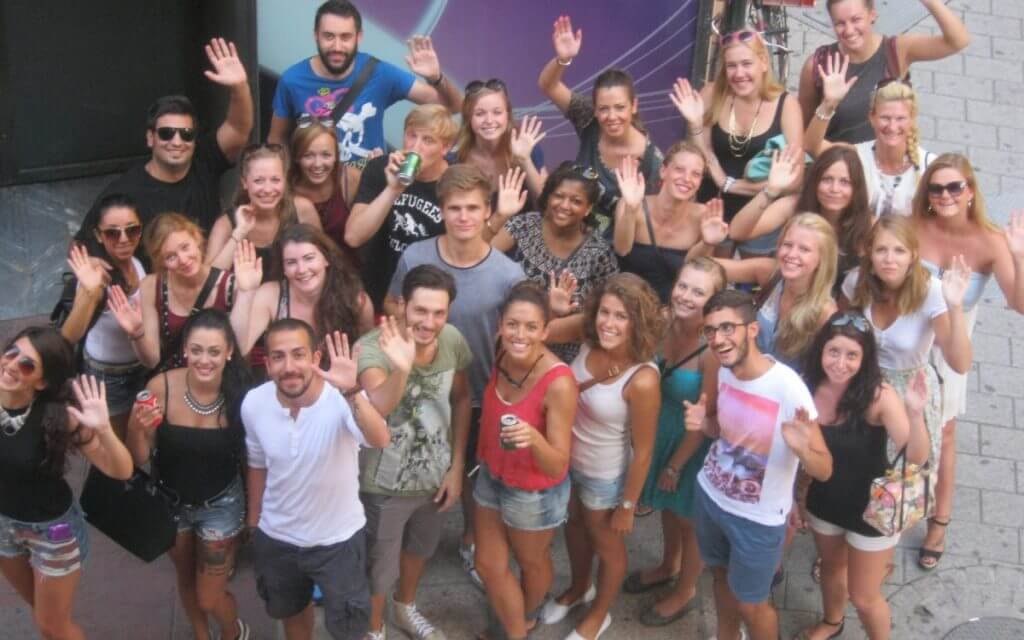 Discover the essence of Spain in Murcia. We'll organise your school immersion trip where you can learn Spanish while exploring the history, gastronomy, and daily life of Spanish culture in the most authentic region of Spain.
We have over 20 years of experience preparing special programs for school groups. Over the years, we've welcomed groups from different parts of the world, such as the United States, India, Norway, Finland, England, Ireland, France, Italy, and Germany. Keep reading; it's worth it!
A customized educational plan
General Spanish courses or for specific purposes
Class material
Homestay (with or without meals)
Leisure, cultural & tourist activities
Language & cultural meetings with Spanish students of the same age group
Professional visits to Spanish companies and public organizations
Half day, full day and weekend excursions
Return airport transfers
Public transport tickets
24/7 assistance
Accident and liability insurance
Guidance and advice
Here are some schools that have visited us in recent years
Awty International School, Texas, United States
International School Aamby, India
Sortland videregående skole, Norway
Oulu University, Finland
Putney High School for girls, London, England
Rathdown School, Dublin, Ireland
Liceo Isnelle Amelin, Réunion Island
American School of Milan, Italy
Gymnasium Lerchenfeld, Hamburg, Germany
University Bordeaux Montaigne, France
Real example:
In 2023, a group of 18 16-year-old girls and boys from Germany attended our school in the city of Murcia for a week. They took 20 Spanish classes in the afternoon and spent the mornings attending cultural training workshops, conversation classes, and group work that led them to explore the city.
The students also attended personalized pronunciation classes that helped them with their specific difficulties caused by L1 interference.
Accommodation with host families was provided on a half-board basis (two meals a day) so that each student had their own room or shared it with a friend.
Two group leaders attended free of charge and stayed at a central Murcia hotel with breakfast included.
The total price for this all-inclusive immersion course for one week was € 425 per person.
Here's another example of a customised program for a group that visited us from Texas, USA. A tailor-made program was designed where they made the most of the long journey from home by visiting several Spanish cities.
You'll see that we can organise any program for your group, from visits to various cities, to dedicating all your time in a single city.
What can we offer?
Our goal is to provide students with the experience of language and cultural immersion in Spain by attending Spanish classes during the morning and participating in cultural activities during the afternoon, although in some cases we have organised it the other way around: activities and excursions in the morning and Spanish classes in the afternoon.
To complete this enriching experience, students stay with carefully selected host families located within a maximum 25-minute walk from our school to get to know and experience Spanish culture from within. However, we also offer the option of accommodation in student apartments and hotels.
We offer tailor-made courses for groups of any age. Dates, duration, class schedule, activities, and excursions will be adapted to the group's interests with a wide range of possibilities, as programs are designed on demand.
Request a quote with no obligation, and we will gladly send you a tailor-made program with activities and excursions in Murcia or other cities in Spain.
We will make your stay in Spain a complete linguistic and cultural learning experience, where the results can be seen day by day.
What does Instituto Hispánico de Murcia's group programmes include?
Our language trips for school groups are priced to include:
Free itinerary planning service
Detailed pre-departure information package
Accommodation, tuition, and meals.
Airport transfers and transportation for activities and excursions
All scheduled activities, excursions, events, and tours
Free group leader or teacher ratio 1:15
All taxes, no hidden fees
The customized group course offered by Instituto Hispánico de Murcia provides a wide variety of content to meet the needs of students and the requirements of teachers. Spanish classes are taught exclusively in Spanish by qualified and experienced native Spanish-speaking teachers.
And keep in mind that we design programmes for students of all ages, for children, teenagers, and adults.
What are the objectives of this programme?
This tailored course for groups offers a unique opportunity for students to learn in a personalised way. The course will be adapted to the specific needs and budget of each group, allowing students to delve into topics that interest them and develop their skills individually.
The course also offers the opportunity to meet other Spanish students of the same age and with similar interests, which will help foster the exchange of ideas and collaboration.
We also offer the opportunity for accompanying teachers to have professional conversations about teaching Spanish as a foreign language and the methodology of our teaching team, who will offer a wide range of knowledge and experience.
This combination of personalised learning, exchange of ideas, and teacher expertise will make the course a unique and unforgettable experience for everyone.
What are the host families in Murcia like?
At Instituto Hispánico de Murcia, we understand that the quality and safety of accommodation are essential when a group of students comes to study Spanish in Murcia.
Although we have the possibility of offering different types of accommodation, we always recommend homestay accommodation for many reasons:
You will enjoy an authentic local experience.
It is a true 'home away from home' experience.
You will see beyond the tourist route.
You will enjoy traditional home-cooked meals.
You will participate in family traditions.
You will enjoy good company.
You will have enormous opportunities to improve your Spanish learning.
You will observe Spanish cultural practices from inside the home.
You will gain a new family.
It is a very affordable alternative.
Students will feel like one more member of the household and will enjoy total immersion in Spanish culture. Although students have the freedom to have their own key, the group's responsible leaders and ourselves will have greater control over the students' arrival times at home.
Depending on the chosen option, accommodation can be in single, double or sometimes triple rooms, with only breakfast, half board (two meals a day), or full board (three meals a day).
There are families with children and without children, with pets or without pets, with a grandmother and without grandmother, vegetarian and non-vegetarian… We will help you find the right family for the group's needs, although not all of our families are always available.
Most of our families have been working with us for a long time, and, of course, we have their criminal and sexual offense certificates at our disposal.
Staying with one of our host families in Murcia is the key to an authentic cultural and linguistic immersion. Share your daily life with a local family, practice Spanish in a natural environment, and discover the culture firsthand. A unique experience that will enrich you and make you feel at home.
Frequently asked questions
We design programmes with a wide variety of content for learners of all ages, for children, teenagers and adults.
Our host families will make you feel at home. You can choose accommodation in a single, double or triple room, with breakfast only, half board (two meals a day) or full board (three meals a day).