Summer camp all year round?
Welcome to the summer camp on the coast of Murcia for young foreigners!
If you're looking for an unforgettable experience in the Mediterranean, you've come to the right place. And this isn't a joke. This is a summer camp that we offer almost all year round, as we are lucky enough to enjoy the climate of Murcia and to be able to organise the camp in a fully equipped and modern building on the beach by the sea.
Other schools offer Spanish courses, we offer experiences!
13 dormitories
10 cabins
Air conditioned
Common meeting areas
Seaview
Dining room for 60 people
Catering services
4 meals per day (special dietary requirements are welcome)
Internet access
Water sports: kayaking, sailing and windsurfing…
Games
Parties
Team games
Beach sports
Sand castle competition
Day trips to Cartagena and Murcia
Boat trips
This summer camp in Murcia is a perfect balance between Spanish language and culture classes combined with sports, leisure activities and excursions, and there will be a good mix of nationalities as many Spanish children will join the camp.
In this camp you will have the opportunity to immerse yourself in a rich and exciting culture, while enjoying water activities, the warm Mediterranean climate and the safety of the environment. Bear in mind that Murcia's climate is one of the great attractions of our region.
In Murcia the sun shines brightly and the climate is warm and dry, perfect for enjoying the fresh air. You can spend your days swimming in the sea, sunbathing on the nearby beaches or taking part in water activities such as kayaking, paddle surfing and much more.
In addition, the coast of Murcia is known for its beautiful beaches and crystal clear waters, which makes the water activities even more exciting and refreshing.
Our summer campus includes three Spanish and culture classes per day, accommodation and four meals per day, activity programme, medical assistance and insurance.
Not only will you enjoy the water activities and Murcia's warm climate, but you will also have the opportunity to mix with other Spanish participants and learn about their culture and traditions. This cultural mix is a unique opportunity to make new friends and learn in a fun and exciting way.
The summer camp on the coast of Murcia also offers a variety of activities on dry land, such as hiking, beach volleyball and other outdoor activities. These activities will perfectly complement your beach days and keep you active.
Join us for an unforgettable experience in Murcia!
What are the opening hours of the camp?
These timetables are not fixed and may be modified for reasons beyond our control, such as, for example, wind, rough seas and others that may affect the smooth running of the activities.
08:30 Wake up and get ready
09:00 Breakfast 
10:00 Start of activities
11:30 Break. Change of activity
13:00 End of activities 
13:45 Lunch and break
16:00 Start of activities
18:00 Break and snack. Change of activity
19:30 End of activities. Tidy up
20:00 Supervised break and free time.
20:45 Dinner
22:00 Evening activities
23:30 Rest in the rooms
What ages are allowed in the summer camp?
The summer camp is aimed at children between the ages of 6 and 14.
What are the requirements for joining?
To register for the summer camp it is necessary to present a photocopy of the child's ID card and an authorisation signed by the parents/guardians.
What about the safety of the participants in this camp?
Safety is a priority at our summer camp in Murcia. We have a team of highly trained and experienced professionals in safety and first aid. Participants will be supervised 24 hours a day, 7 days a week, guaranteeing peace of mind for parents and safety for youngsters.
Where will the participants stay?
Alongside the activities, our summer camp in Murcia also offers accommodation and meals for the participants. The accommodation is in a safe and quiet environment, with shared rooms and comfortable beds. Our kitchen team prepares healthy and delicious meals for the participants, taking into account their individual dietary needs and requirements that they have previously informed us of.
The camp's location on the coast of Murcia is perfect for exploring nearby tourist sites such as the city of Cartagena, the natural park of Calblanque and the historic fishing port of Cabo de Palos. These excursions are an opportunity to learn about the history and culture of the region, as well as to experience the natural beauty of Murcia.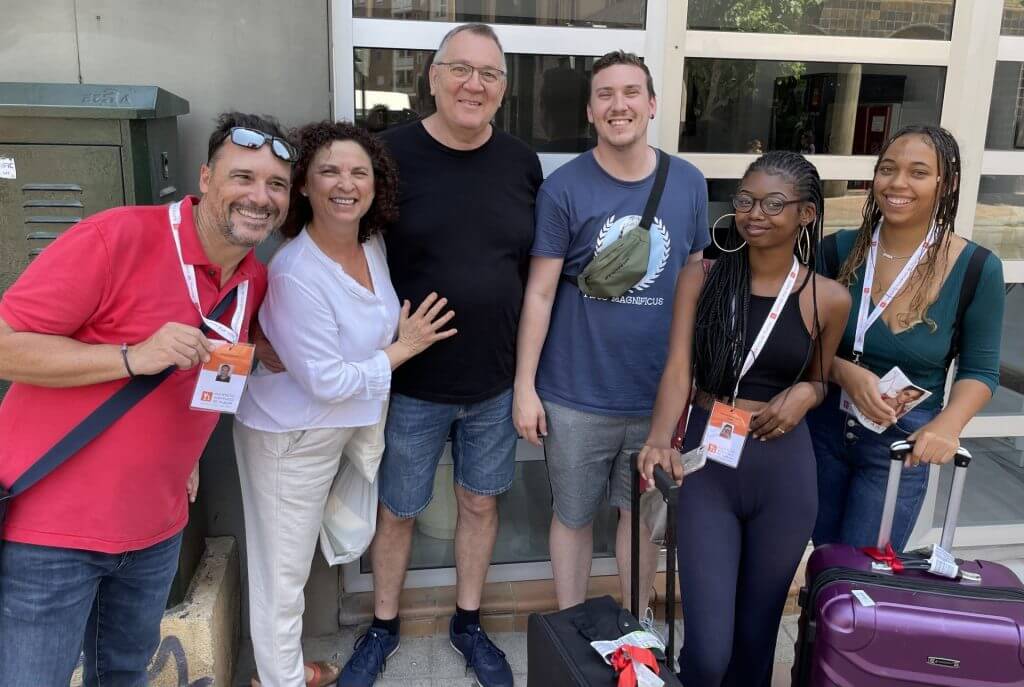 How much does this summer camp cost?
We cannot give you a fixed price as each programme is tailor-made. We can organise any programme a la carte throughout the year on request, but we strongly recommend schools and parents book in advance.
In short, the summer camp on the coast of Murcia for young foreigners is a unique opportunity to explore an exciting culture, enjoy the warm weather and water activities, mingle with other Spanish participants and explore the nearby tourist sites.
All this while enjoying a safe and secure environment supervised by our highly trained team. Are you interested?
The summer camp is aimed at boys and girls aged between 6 and 14 years old.
During the camp, recreational, sports, artistic, and cultural activities will be carried out.
To register for the summer camp, it is necessary to present a copy of the child's ID and a signed authorization from the parents/guardians.