Spanish course tailored for Russian speakers
Learn Spanish in a fun, easy, and fast way!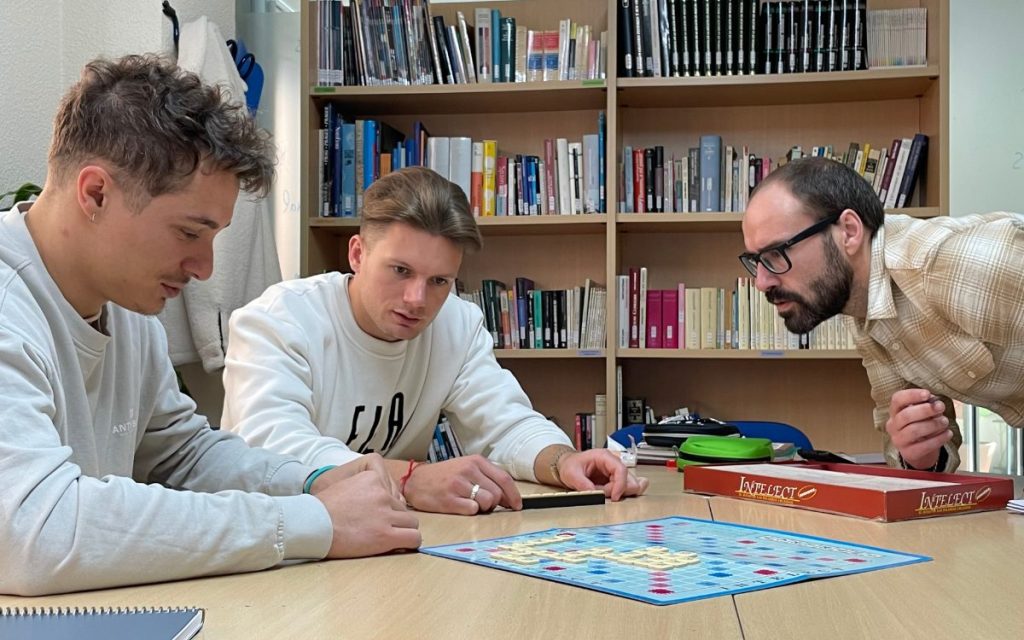 Learn Spanish quickly with our intensive course designed especially for Russian speakers at a beginner or elementary level! If you're looking to master basic Spanish in a short amount of time, this course is essential for you.
At our Spanish school, with over 20 years of experience and accredited by the prestigious Instituto Cervantes, we specialize in offering high-quality courses and personalized experiences. We take pride in not being a standardized product, but in creating unique experiences for our students, ensuring excitement and fun in every class.
Other schools provide Spanish courses. We offer experiences! 
What does this course consist of?
In this four-week course for beginner-level students, we offer you a practical and communicative methodology, with native and experienced teachers in teaching Spanish as a foreign language. You will learn the basics of Spanish and be able to communicate in everyday situations. Furthermore, our focus on conversation will help you develop your oral skills effectively and quickly.
Although you have more details below, in summary, this special program includes:
80 Spanish lessons in small groups.
20 selected activities.
Our intensive Spanish course is dynamic, practical, and fun. It is designed to provide you with a clear and simple grammatical foundation, allowing you to acquire the basic concepts of Spanish and develop communication skills to interact appropriately in various communication situations. In summary, we offer classes and practical advice on living in Spain.
What is the content of this course?
The content is designed to provide you with a solid foundation in Spanish. Throughout the course, we will cover the following topics and areas of learning:
Greetings and introductions: You will learn how to greet and introduce yourself in Spanish, as well as engage in basic personal introduction conversations.
Basic vocabulary: We will develop your vocabulary in thematic areas such as numbers, colors, days of the week, months of the year, parts of the body, family, food, everyday objects, among others.
Elementary grammar: We will focus on the basic grammatical structures of Spanish, such as personal pronouns, regular and irregular verbs in the present tense, the use of articles, possessive and demonstrative adjectives, adverbs of frequency, among others.
Everyday expressions: You will become familiar with common expressions and phrases used in daily situations, such as asking for directions, shopping, ordering at a restaurant, booking a hotel, among others.
Listening and reading comprehension: We will work on improving your ability to understand simple conversations and texts in Spanish through listening and reading exercises.
Conversation and oral expression: We will practice oral expression through real communicative situations. You will engage in conversation exercises, role-plays, and debates to improve your fluency and confidence in speaking Spanish.
Writing and written expression: We will help you develop your writing skills in Spanish, starting from composing basic sentences to writing simple texts such as emails and informal messages.
Hispanic culture: Throughout the course, we will explore the cultural diversity of Spanish-speaking countries, including aspects such as music, literature, traditions, history, and gastronomy. This will allow you to better understand the cultural context of the Spanish language.
The course content is adapted to the needs and level of the students and focuses on providing a solid grammatical foundation and practical communication skills. Our teachers use a variety of teaching resources, such as textbooks, audiovisual materials, interactive activities, and practical exercises to ensure an enriching and effective learning experience.
No prior knowledge of the language is required for this course. You will start speaking Spanish from the first day of class, and throughout the course, you will learn to express yourself with simple phrases.
"I took the course and I was very satisfied. All the classes were productive and interesting, with a professional and positive teacher who explains very clearly. It is also possible to choose a convenient class schedule. Thank you! 😄"
What activities are included in this special program?
Our goal is to boost your confidence and your ability to use Spanish in the real world, so please note that all activities included in this program have a learning purpose and task-based objectives. Classes will be conducted in Spanish, and throughout the activities, you will be accompanied by an English-speaking member of Instituto Hispánico. If you prefer, we can also include a Russian-speaking guide-companion in the activities (price not included). You can see below the activities included in this program, ranging from cultural visits to flamenco and salsa classes, guided tours, and various gastronomic experiences.
Additionally:
Locations within a 20-minute walk from the school.
Pets, vegans, and vegetarians welcome.
Liability insurance.
End-of-course certificate.
We can provide **** hotel accommodation or selected host families upon request.
All-inclusive. No hidden extras.
How much does this course cost and when can you start?
The price of this course is €975 for 4 weeks, and you can start every first Monday of the month throughout the year. Please remember that a minimum of 4 students is required to start the course, and there will be a maximum of 10 students. This way, we can guarantee personalized attention and effective communicative practice in class.
Furthermore, with a small group, we encourage teamwork and interaction among students, which allows for a more dynamic and enriching learning experience. So, if you are interested in learning Spanish in a friendly environment, don't hesitate to join our course with a small group of peers.

What are the objectives of this course?
Acquire a clear and simple grammatical foundation: throughout the course, we will provide you with the fundamental grammatical structures of Spanish in a gradual and comprehensible manner, allowing you to build a solid foundation in the language.
Develop basic communication skills: the main focus of the course is to provide you with the necessary tools to communicate in everyday situations. You will learn to express yourself orally and in writing, understand simple conversations, read basic texts, and write simple messages and emails.
Improve fluency and pronunciation: through conversation practice and pronunciation exercises, we will work on developing your verbal fluency and correcting any pronunciation errors.
Expand vocabulary: in each lesson, you will expand your vocabulary with relevant words and expressions for daily communication. You will learn key words and useful phrases that will enable you to navigate different situations.
Familiarize yourself with Hispanic culture: throughout the course, you will have the opportunity to immerse yourself in Hispanic culture, learning about customs, gastronomy, music, and traditions of Spanish-speaking countries. This will help you better understand the cultural context and enrich your learning experience.
Gain confidence and autonomy: as you progress in the course, you will gain confidence in your abilities and acquire autonomy to communicate in Spanish. Our goal is for you to feel comfortable and confident using the language in different situations.
Prepare for higher levels: this intensive course will provide you with a solid foundation to continue advancing in your Spanish learning. Upon completion of the course, you will be ready to continue with more advanced levels and further perfect your Spanish.
These objectives are achieved through a
dynamic and participatory methodology
, where interaction and constant practice are encouraged. Our teachers will be there to guide and support you every step of the way, providing
personalized
feedback and adapting to your specific needs.
Why study at Instituto Hispánico de Murcia?
Rapid learning: Our intensive approach allows you to immerse yourself in the language and accelerate your progress. With daily classes and a rigorous program, you will be able to develop your Spanish proficiency efficiently.
Highly qualified teachers: We have a team of native and highly trained teachers in teaching Spanish as a foreign language. They will guide you every step of the way, providing personalized support and constant feedback.
Real interaction: From day one, we encourage you to practice Spanish in real-life situations. Through communicative activities such as role-plays, debates, and simulations, you can apply your knowledge and improve your fluency in a safe and motivating environment.
Quality teaching materials: We use updated and tailored teaching materials to meet your needs. Our resources include textbooks, audiovisual materials, and interactive exercises that will help you consolidate your knowledge effectively.
Cultural immersion: We not only teach you the language but also immerse you in Hispanic culture. We organize cultural activities such as museum visits, local events, and thematic workshops, allowing you to experience the cultural richness of Spanish-speaking countries.
Flexible schedule: We understand that your time is valuable. That's why we offer different schedule options to accommodate your availability. You can choose between morning or afternoon classes, whichever suits your daily routine best.
Recognized certification: Upon completing our intensive course, you will receive a certification recognized by our school and endorsed by the Cervantes Institute. This certificate is proof of your Spanish level and can be valuable for your resume or future academic and professional opportunities.
We are thrilled by the success of our students. We have witnessed how, starting from an initial level of Spanish, they have achieved a solid command of the language in a short period of time. No matter what your goals are – whether it's traveling, studying, working, or simply enjoying the cultural richness of the Spanish-speaking world – our intensive course will provide you with the necessary foundations to achieve them.
We warmly welcome you to join us on your journey towards Spanish proficiency and enrich your life with a new language and culture!
FAQs about the intensive Spanish course for Russians speakers
The Spanish course for Russian speakers includes 80 Spanish lessons covering grammar, vocabulary, pronunciation, reading, and writing. Additionally, it includes over 20 extracurricular activities and daily meals with a Spanish teacher.
Upon completing the Spanish course for Russian speakers, you will gain a better understanding of the Spanish language and increased confidence in communicating in Spanish.
The intensive course for Russian speakers offers practical tips on how to live and work in a Spanish-speaking country.