Spanish lessons online for groups or individuals
The best online & in-site Spanish courses?
Due to the past pandemic situation, amidst school closures and social distancing, our online courses were, and still are, the perfect way to sharpen your language skills from the comfort of home.
Please note that we are offering our online Spanish learning programme ALL YEAR ROUND, at a special price SAVING 10% from its original in-site price, plus you are neither paying class materials fee! – saving another extra €37!
Besides, we are also offering a FREE trial lesson for newcomers:
We are proud to develop our online curriculum delivered by experienced teachers who are all qualified native Spanish speakers:
virtual learning
online collaboration with other students
self-study
Our learning platform is designed for collaboration, so students are constantly virtually interacting with their classmates around the world – some of them in-site – as well as their teacher.
And remember, we're rated 4.8 stars out of 5 with independent reviews in Google by international students. What we do we do it well!
Other schools provide Spanish courses. We offer experiences!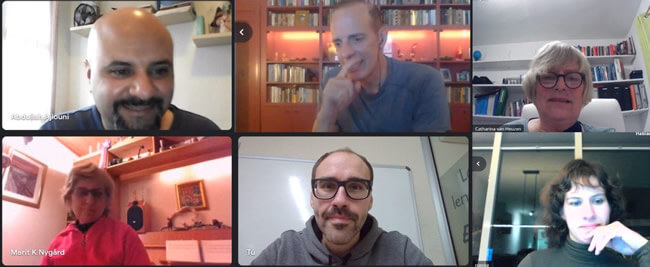 Read some frequently asked questions
Of course! Our trial Spanish classes are free of charge and take place every Friday depending on your level of Spanish. All newcomers are more than welcome. 
Fridays were chosen so there's still time for you to book, pay and start your course the following Monday.
Lessons will be held using Zoom or Skype, rather than Teams, as Teams requires a more complex set-up for non-registered students.
Time: 12,00 h UTC+1 (Madrid time).
50-minute duration with an introduction on what to expect during a lesson.
After completing our online placement level test on the top menu, please send us an email before to join a class.
Learning access to our qualified native Spanish-speaking teachers
Live classes from 10,00 h to 21,00 h UTC+1 (Madrid time), from Monday to Sunday. Individual lessons are available at a wider timetable
Structured collaboration with your classmates
Full access to IHM online with many self-study resources
Regular writing and speaking tests
Ability to upgrade and add private one-to-one lessons
Your teacher will provide all resources you need to improve your learning process. Do not worry, you will have plenty of homework if you wish so!
WHEN? Live classes from 10,00 h to 21,00 h UTC+1 (Madrid time), from Monday to Friday according to your level of Spanish. Please check this out with us before booking!
HOW MUCH?
SAVE 10% from the original in-site course price. For example, a face to face €160 Intensive Spanish course will cost €145,45 online. You save €14.54 in one week.
No need to pay class materials
Booking terms and conditions apply: Minimum 5 students per group
All prices include taxes
Just email us for an accurate quotation.
WHEN? Almost anytime. Please check this out with us before booking!
HOW MUCH? 
10% discount on the price of the face-to-face class. Special prices are available for weekend classes.
1 individual hour costs €40 and online costs €36.
10 individual hours cost €320 and online €288.
20 individual hours cost €560 and online €504
A friend, relative or partner can study with you for the same price.
All lessons are 60 minutes long
No need to pay class materials
All prices include taxes
Only these lessons can be cancelled or postponed if notified in writing 24 hours in advance; otherwise lessons will be missed and payment will be not reimbursed. Credit hours do not apply in this case.
If the connection breaks on your side we will not be able to do anything as it is your responsibility. Having said this, if the connection fails on our side for any unusual reason we will postpone the class to be resumed at another time that is convenient for you.
Of course, stating objectives, contents and level achieved.
As private classes are tailored made you can choose whether to have them with the same teacher or not. However, we advise that you book all your classes to be with the same teacher given that you will also have better continuity with your classes and will see better results in a shorter period of time.
But we always follow your instructions and if you would like different teachers… your wish is our command!
We're often asked this question as friends, relatives and couples sometimes want to take lessons together, and the answer is yes. The only requirements are that you have the same language level and are able to Skype call the tutor together from the same location.